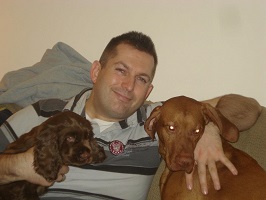 Knightsbay Dog Training is owned and run by dog trainer, dog show handler, and dog show judge Russell Mosedale. He has been passed to award CC's in 12 Gundog Breeds and 1 Hound Breed. Russell is also been passed for the Gundog Group at championship show level. Russell currently owns two dogs: Harry (Sussex Spaniel) and Ozzie (Pointer).
Russell has been involved with dogs all his life, concentrating in the early years with showing his dogs to huge success. This led him to be an excellent handler, handling eight different breeds knowing exactly how to get the best from his dogs. He has handled many dogs to their show titles and others to Kennel Club Challenge Certificates, Reserve Challenge Certificates, and some to their Field Trial titles. Russell has completed a 2-day Dog Trainer Course with the Institute of Modern Dog Trainers and recently completed day's course IMDT Happy Dogs 2019. Russell has also completed many breed specific seminars which he as achieved passes in.
Passed The Kennel Club Seminars;
The Eye For A Dog – 2019
Critique Writing Exam 2019
Requirements of a Dog Show Judge Refresher Exam 2019
Ring Stewarding Exam 2019
Pawscars Finalists 2019 – Training Class of the Year
Russell is fully insured with Cliverton Insurance.
Russell has received Disclosure and Barring Service (DBS previously known as CRB) clearance in 2016.
Russell is a KCAI Scheme Member – Working Towards Accreditation.  This is the Kennel Club Accreditation Scheme for Instructors in Dog Training and Canine Behaviour: the UK's quality benchmark for canine training and behavioural advice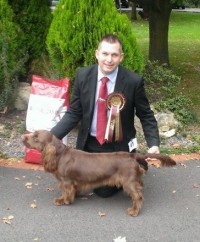 Russell's interest in dogs has not stopped there. He took an interest in the working ability of his own dogs and achieved great success, knowing how to make them listen to every command, using hand signals and whistle ability. He has successfully competed and his dogs have achieved Field Trial Awards and Working Tests and also been Best in Test and Guns Choice. He has also been keen to pass his knowledge on, and has been doing Gundog Training for breed clubs and one to one training with excellent feedback.
Russell is also a successful dog show and working judge taking him all over the country and even to Ireland and Holland. He also works at the world's biggest dog show and helps to organise one of the largest dog shows in the UK with up to 10,000 dogs entered.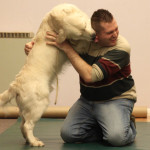 Russell has been using his knowledge as a dog trainer for the last few years, which has included puppy training, dog obedience training, gundog training, whistle training, ringcraft, and dog show handling.  He is always approachable regarding any problems or issues you may have.
Russell has appeared in the following books with his training:
■ 'Field Spaniel (Pet Love)' by Becky Jo Wolkenheim 2001 (ISBN: 9781903098806)
■ 'Gordon Setter (Pet Love Dog Breed)' by Lavonia Harper 2001 (ISBN: 9781903098691)